Soft palms are universally appreciated. If you're naturally blessed with them, that's wonderful. However, if your hands have become rough due to daily tasks, household chores, or any other factors, consider giving this a try.
Things required : 
Coconut oil 

Salt

Lukewarm water 

Moisturiser

Lemon juice
Procedure : 
Wash your hands clean and dry.

Pour an adequate amount of coconut oil into your palms.

Take some salt in your palms.

Gently rub your palms against each other.

Do it at least for ten minutes. Your fingers, nails scrub every corner of your palms. 

After you are done, wash your hands in lukewarm water.

You can add few drops of lemon juice to the water. It helps to remove the greasiness.

Then pat dry and apply the moisturiser of your choice. 

You can do this to your feet too. 

Follow this regime twice a week and see the difference. Soft palms- you will love them.

It's better to do this just before you go to bed.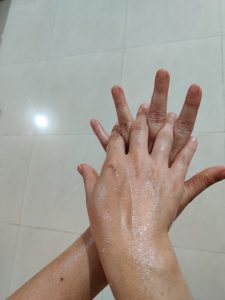 Coconut oil has anti-inflammatory properties and increases collagen production. It helps to bolster the skin's protective barrier layer, trapping moisture inside and keeping the skin supple and hydrated.
Salt absorbs dirt, grime and toxins and cleanses skin's pores deeply.
As I have mentioned earlier, I love to share my thoughts and experiences. The self-care/beauty pointers referred to in this section are those that I have either read/come across, have been shared with me or something that I have tried and worked for me. Know what suits you the best and then try them on yourself.
Thank you. 
Please feel free to share your opinions/thoughts in the comments section.
Read more on Beauty-Self care :