Haldipur, situated in Honnavar Taluk, Uttara Kannada District, Karnataka, India, holds a special place in my heart as it's my father's hometown. During my childhood summer vacations, we would make short visits to this charming village, creating wonderful memories. The ancestral house, nestled amidst lush greenery, featured a sizable well inhabited by frogs, a cowshed where we fed the cows, and a spacious bath area that felt like a room. The water was heated in a large container using wood fire, making our baths refreshing. We had endless fun running around the yard, exploring every nook and cranny, and enjoying the unique, airy architecture.
Our visits also included trips to the nearby sea and waterfall, where we had unforgettable experiences. And, of course, the local fish cuisine was absolutely mouthwatering.
There was a temple adjacent to our house, and I frequently visited to receive holy water, which had a pleasant camphor taste. I also befriended a neighbour's family, particularly their younger daughter, whom I affectionately called "gombe" (doll) due to her appearance. We spent countless hours chatting and playing together.
These are just a few of the cherished memories I have of this place. Returning after nearly two decades, I noticed significant changes. The cowshed and the well were no longer there and the spacious yard had shrunk due to new constructions. Alterations had been made to the house, which was expected with the passage of time. Sadly, the old neighbours were no longer there, and I had no way of knowing where "gombe" had gone.
On this visit, I was accompanied by my parents, husband, and daughter. Our primary purpose was to pay a visit to the renowned "Harike" (asking for a divine favour ) Ganapathi idol, which the village places in a nearby lane during the Ganesha season for five days. This was my first time seeing it, and I was captivated by its dark red colour and intricate silver ornaments.
In 2016, my parents had offered prayers to this deity, seeking blessings for me to conceive a child, especially due to the difficulties I had encountered in getting pregnant.Many people from nearby villages visit during the five-day Ganesha celebration. We had a blessed darshan, performed pooja, and expressed our gratitude for our angelic daughter.
I was excited to show my husband around the village, explaining every nook and corner and reminiscing about the games we used to play. After visiting relatives and savouring a delicious fish curry meal, we bid farewell to this place that holds so many cherished childhood memories.
During our three-day stay, we also visited Idagunji (Ganesha temple), Kodlamane (Vishnu temple), Kumta (temples, Beach and we bought local savouries), Ankola, Karwar ( Visited the beach and Warship Museum) and Mirjan Fort making the trip even more memorable.
**********
Breakfast : During our stay in Kumta, we lodged at the Pandurang International Hotel. They served us authentic North Canara-style cuisine, including delicacies like banana buns and idli cooked in jackfruit leaves, alongside a selection of standard breakfast options from their menu.
Recommended Lunch and Dinner for mouth watering Fish meals:
Kumta : Hotel Ustav in the market area.
Karwar : Swetha Lunch home.
We used KSRTC Airavat Club Class for our main travel (Bangalore <—–> Kumta ), and for getting around locally , we rented a self-driving car. Alternatively, you can also opt for local bus transportation. All the destinations we visited are reachable within a two-hour drive.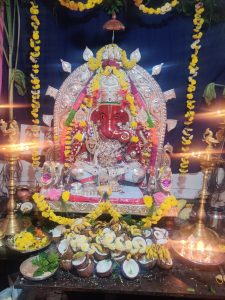 Please do share your childhood memories from your hometown in the comments section below.